Hi, I'm Mel Martin, Integrator and Master Coach of The Powerful Man.
Just like you, I have won and lost, laughed and cried, loved and disappointed and succeeded and failed over and over again.
Not a day goes by that I'm not grateful to have lived all that and feel all emotions that go with it.
I have felt quite a bit in 54 years.
My biological mother was a hostess at a bar at a military base in the Philippines where American soldiers frequented.
She got pregnant with me by a man I've never met.
I had brothers and sisters from different fathers. She felt she couldn't raise me so she gave me up to a woman who couldn't have a child.
The mother-in-law of this woman heard of me and arranged for the adoption to be processed.
My adopted mother used to tell me about how I was covered with cuts and looked sickly has a baby.
She told her husband who was away on military duty at the time that she wanted to adopt me and he gave his approval.
I was a baby with new parents and my new life began.
We became a U.S. military family between living in Japan and the Philippines.
I also became a son of a soldier who fought in Korea and Vietnam and brought the pain back home with him.
In 1973 President Marcos declared martial law. Under that military dictatorship, my father had to leave us and go to America.
I guess somehow those years alone with my new Mom were very difficult for her.
I really don't remember what I did that prompted it but I remember her taking me back to the woman who brokered the adoption.
She tried to return me.
I remember sobbing and begging her not to leave me.
I don't think of that very often but when I do, I really wonder what in the world I did to make her want to give me back.
Nevertheless, no child should ever have to go through that kind of emotional duress and rejection.
We joined my father in San Francisco a year later in 1974 and I was naturalized as U.S. Citizen in 1977.
My Dad is a hero to me now but he definitely wasn't back then.
I feared and felt his angered belt as a kid. Unfortunately, it's always the first memory I have of my childhood.
I've sometimes wondered if the struggles my parents had with me were because I wasn't their natural born child.
My teen years weren't any better. My Dad and I just could never get along.
We had a massive fallout and he kicked me out at 15.
A friend took me in and I lived with his family throughout my high school years.
I really appreciate what they did for me but parts of it were really rough. They were a large family of ten kids and growing up as an only child, I definitely felt like an outsider.
I had a roof over my head and food to eat but I really did not receive the true connection and love from a parent that a kid really needed.
My high school years were a struggle. I was a tenth-grade dropout yet I returned and graduated in five years.
At the start of my junior year, I had a nightly dishwashing job at a restaurant and by the end of my senior year, I caught a break.
I was a skinny kid and I was working out in the garage to build up my body and self-confidence.
I joined a local gym that was part of a national chain and my life changed overnight. The girl that signed me up liked my personality and recommended me to her manager for a new marketing position they had created. I was hired right on the spot.
No more walking home in soggy 501 jeans and soaked Vans shoes, I traded that all in for a beautiful navy blue Adidas sweatsuit and a pair of Stan Smith tennis shoes.
I was promoted to health and fitness instructor and I worked really hard and quickly climbed up the ranks. All that mattered to me was being named one of the top producers when the sales and service rankings were announced every Monday.
That meant I was successful and I was somebody.
This went on through my twenties and I thought I was amazing. I also had my first relationship with a girl and I fell head over heels in love with her.
A few months later she broke up with me and I fell apart. I had no idea how to deal with that. I was so heartbroken and it badly affected my work performance. I was fired from my job.
I remember being very angry for quite a while. I was also very angry at my Dad. I would just be driving past the freeway exit to my parents home and I would start to rage inside. I imagined myself beating him over and over. It was so vivid in my mind.
At that young age, I vowed to do everything for my children that my Dad didn't do. I was going to be the best Dad I could be.
In 1989, my Dad was diagnosed with liver cancer. We had just started talking again. While I was visiting my parents, he and I had a private moment alone.
He apologized to me for the way he treated me. He said he didn't know how else to raise me. He didn't know how else to prepare me for the harsh world out there.
I probably didn't appreciate that moment then as much as I've gotten older but I definitely felt different after he said it.
It was such a gift that God gave us. I forgive him and love and respect him so much for the courage it took to do that.
Over time, I started having more vivid thoughts in my head. I would be having full on conversations within myself. I also had these really detailed movies playing in my mind.
They were mostly sad and angry stories and they kept playing over and over every day.
On the outside, I just kept working. I was an awesome personal trainer and loved my job.
It was the strangest feeling. I felt like two people living in one body.
I fell in love again and after four years this one ended badly too. I walked in on her one night after work in bed with another man.
I buried that pain and distrust and I told myself to just keep working hard, become more successful and everything will be okay.
The images in my mind became worse and I was very intense when I was alone.
I just keep telling myself that I was fine. After all, how could I not be? I had a very successful training business and everybody liked me.
I was now in my mid-30s and I started thinking about getting married and not wanting to be alone forever.
Jamie was a client of mine at the time when we started dating. I was attracted to her, she was very loving to me and I thought that was how a wife should treat me for the rest of my life. It was good enough so a year later I asked her to marry me.
As time went by, I started feeling like I had to be someone else to keep her happy. Whenever I vented any frustration over a tough day she would accuse me of taking it out on her.
I simply was just sharing with her things I wasn't happy with but she would have none of it. I shut her out after that and never shared anything with her again.
An opportunity came my way to own a Fitness Together personal training studio franchise. Jamie had just been medically retired with carpal tunnel from years of dental hygiene practice and we needed a better source of income than just mine since we just lost hers.
I immersed myself into the studio working long hours every day from 5 AM to 9 PM. I was obsessed with becoming a millionaire. I thought that once I became one, I would again become somebody. I would be good enough.
I've built a seven-figure business and it cost me the first four years of Jacob and Ian growing up.
I continued to shut Jamie out. She was toxic and I couldn't stand the judgmental tone in her voice.
The studio became my surrogate wife. I was happiest when I was there. I could simply be myself without any conditions or toxic behavior around me.
The economy took a massive drop and I was not prepared for it. I relied solely on new business revenue and I had no working capital to fall back on.
Managing the finances was my weakness however it was Jamie's strength and shutting her out proved to be the wrong thing to do.
I fell six months behind in rent. I felt responsible for my employees' lives and I worked furiously to keep the business alive until I no longer could.
I lost the business in 2008 and I felt like a massive failure. It all could've been prevented had I allowed Jamie to be in charge of the books instead of letting my ego get in the way.
I just simply could not trust her to not criticize me and I couldn't stand the thought of going through that every day.
We went through personal and professional bankruptcies from the closure and she was very angry with me for years after that.
A loveless and sexless marriage for about four years followed thereafter.
I also suffered erectile dysfunction from all of the stress. I couldn't have felt any lower.
The only bright spot in my life was coaching both of my son's baseball teams. It was something I absolutely loved to do.
We ended up divorcing in 2012 and I gave her everything. I worked in the corporate telco industry as a local small business developer just so I could have a job to make ends meet.
I hated it and I did just enough to get by until I was eventually fired. I got back into fitness coaching and built a successful mobile training business.
I decided to transition into the online coaching space so I was developing a program for that while driving 150 to 200 miles per day to client to client training appointments.
I relied on my intensity and discipline to build myself back up. In the meantime, my anxiety became worse.
Something didn't feel right inside me. I keep grinding and working and grinding and working day after day and it felt like nothing was making a difference.
Something inside me kept asking, "Why are you not further along in your life? Why are you not successful yet? What is wrong with you? You should be doing so much better…"
I was so burned out yet I kept working as hard as I could because I could not afford to stop.
I could feel myself dying inside as I kept motivating others to become better.
I knew I had to stop but I did not know how. That's when I met Tim Matthews. We were both speakers at the Online Super Coaching Conference in New York.
We had great energy together, shared common philosophies and decided to collaborate.
As part of my onboarding in potentially becoming a coach in The Powerful Man, he invited me to participate in The Activation Method program.
That could not have happened at a better time.
I did not realize how much I was hurting inside. I didn't know how much I was suffering and that I didn't have to.
I kept chasing that voice of approval from all those years of rejection and not feeling good enough.
The Activation Method changed my life. I am far from perfect nor am I fully healed. I don't think you ever can be however you sure can just be.
Learning to become aware, allowing and fully accepting who I am has given me what I need to stand in the middle of my own tornado.
We all have one with all of our pains, guilt, and shame from our past whipping around hard and ready to rip us apart.
The world needs Powerful Men who are the most loving husbands, caring fathers, dependable friends, savvy business leaders, and impactful citizens.
My heart feels deeply for every man that doesn't feel he's good enough. I understand how much it hurts and if you decide to go through The Activation Method, I will do everything I can to help you find your most powerful self.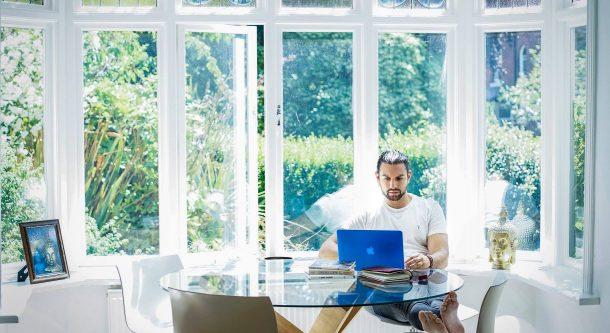 Get Your Free Training Here.